У Тоннер новая линейка, и это бждшечки... правда не думаю, что они супер популярными будут...
Robert Tonner Phyn & Aero collection!
Annora Monet
$350
Limited Edition 100
As a little girl, Annora always wondered about the opinions she heard on a daily basis. Quite frankly, she didn't really understand why people had these opinions about her-but everyone seemed to have something to say-especially when she tried to express herself. But as she grew older, she began to suspect that the opinions said more about those expressing them than it did about her. Before long, Annora realized that the only opinion that truly mattered was her own (well, at least when it came to her fashion sense). Feeling a bit nostalgic and romantic, Annora slips into a cotton cami with shirred detail and matching bloomer pants. She just had to try the floral boots and the perfect finish-her lace tights.
Resin ball-jointed doll with 19 points of articulation (double jointed at elbow and knee)
Deep rose saran removable wig
GR-03 Dark brown eyes
White cotton, front shirred cami with a silk floral trim
White cotton bloomers
White lace tights
Floral front lace boots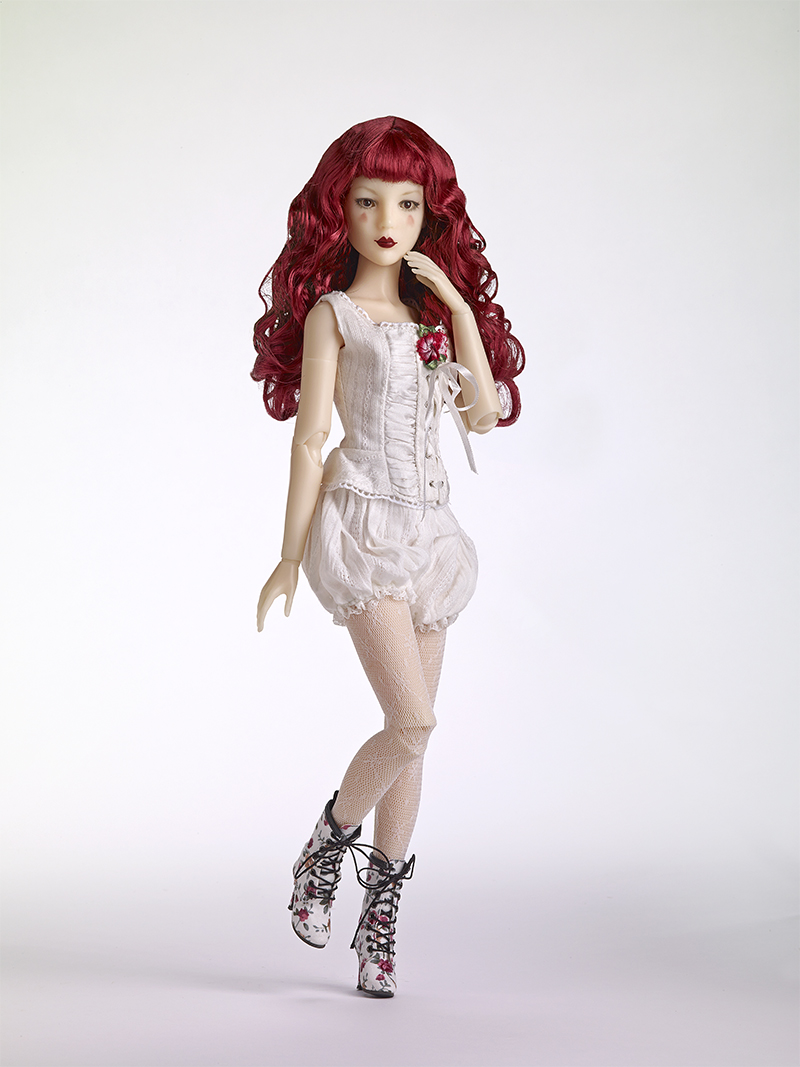 Deluxe Basic
$550
Limited Edition 75
Annora has a habit of changing her look with every mood. Being an artist from a long line of artists, she tends to use her face as a canvas and she knows it will be a good day if she can look completely different than she did the day before. Every Wednesday, Annora meets her best friend, Bardet, for coffee with no tech allowed. They have a lot to discuss today, but how, oh how, should she look?
Resin ball-jointed doll with 19 points of articulation (double jointed at elbow and knee)
Long black saran removable wig with bangs
B-09 Topaz eyes
Second head with face up has removable wig - red with black undertones, cropped with bangs
CC-10 Chestnut brown eyes
Third set GR-01 Dark blue eyes
Soft yellow satin slip with pleated demi-skirt and silk floral trim
Matching knit striped over-the-knee stockings
Gold silk slides with silk floral trim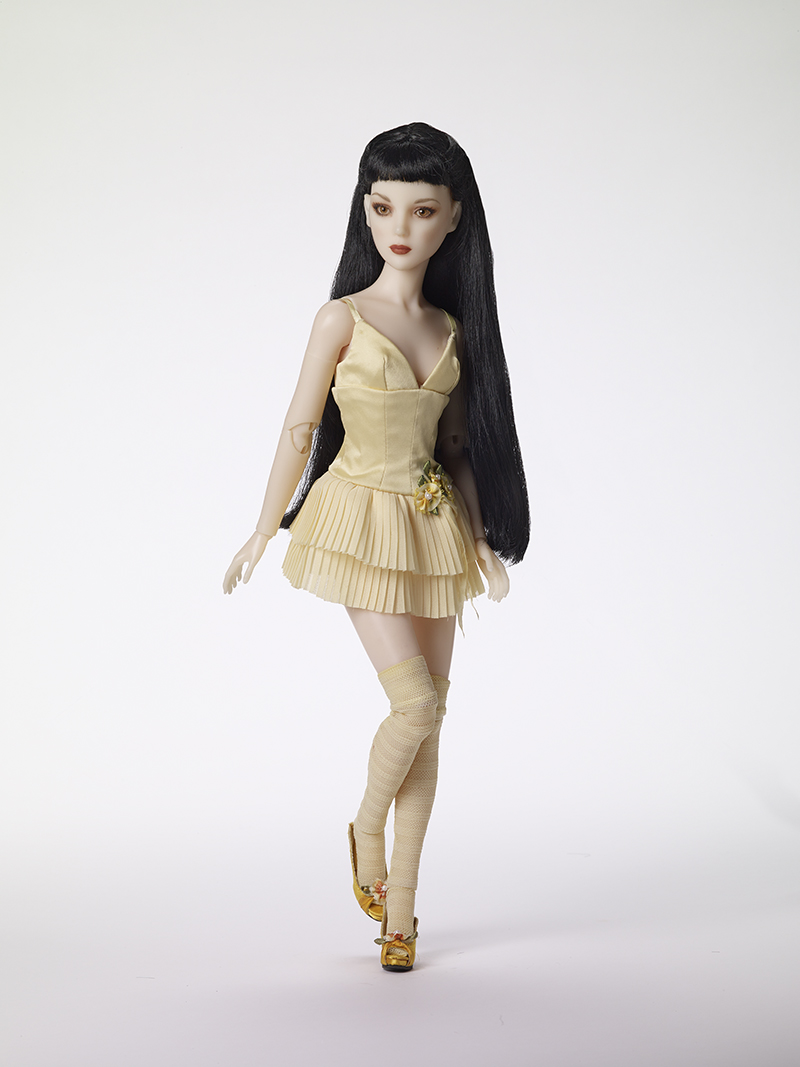 Strength of Character
$475
Limited Edition 100
Annora is used to having all eyes on her but she wondered if today's outfit was just too much. Hardly. Feeling in somewhat a dark mood, Annora steps out in a romantic/gothic inspired rouched dress of black taffeta with sensual soft suede boots. Trying to be somewhat less serious, she adds a spray of ebony silk roses and a lace bow around her neck. For a touch of whimsy, how about dolly make-up? Too much? No, just about perfect.
Resin ball-jointed doll with 19 points of articulation (double jointed at elbow and knee)
Bleached white crop removable wig
CB-01 Ice blue eyes
Black rouched dress with knit lace sleeves, ruffle trim and rhinestone pin at belt
Black suede boots (not as shown)
Black lace choker
Fabric rose head band in black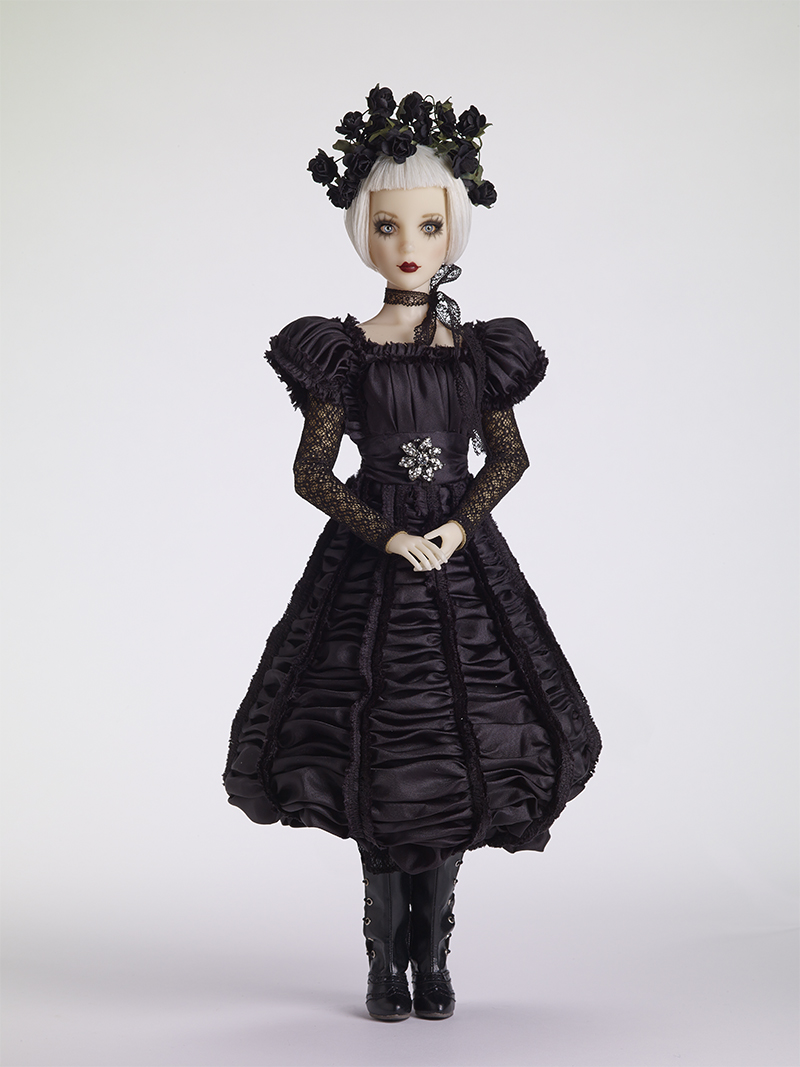 И аутфиты: